As somebody who uses Twitter frequently I must say that I'm easily disappointed by the search features of the network. First off rarely does an advanced Twitter search function. I almost always get some type of default message telling me that Twitter has reached capacity and is unable to retrieve the results I'm currently looking for. This by itself if quite frustrating considering Twitter is littered with a mess of irrelevant and self deprecating  messages leaving individuals like myself with the impossible project of weeding out the garbage to find messages that are of true interest.
So what are the potential solutions to finding useful messages on Twitter? The most well known solution is Twitter Search. Twitter Search is a third party application that works independently from Twitter to help you find keywords or phrases that may be of interest to you. The service works great and rarely will you be denied results. However Twitter Search is limited to those tweets within the last ten days. In other words you can't dig into the past to find messages that you tweeted or that others tweeted at you.
Find Old Tweets
What are you to do when you realize that you need to find an old Twitter message that has the name and contact information of an individual that you need to connect with? You turn to SnapBird. SnapBird is a competitor to Twitter Search and offers a completely different set of features. With SnapBird you can search beyond ten days into the past using a number of criteria. You can search your own Twitter timeline, a friend's timeline, by tweets mentioning you, by direct messages sent, and direct messages received. The best part of all, it's free!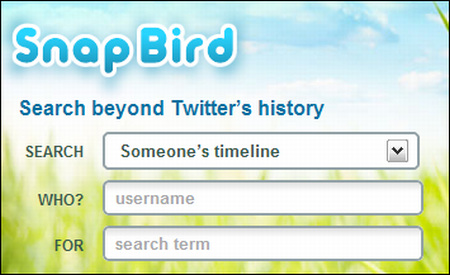 2 Comments
Blog Categories
Social Media So Fresh
Welcome to "Social Media So Fresh" a blog that encompasses trending media and amazingly fresh and clean technologies. Have something fresh to share? Email me and guest blog your news right here!
Blogroll
Friends