Browsing articles tagged with "DJ - Dino-Gomez.com"
As techno and trance music continues to grow in San Diego and becomes more mainstream so does the desire for many individuals to learn how to land a gig as a nightclub DJ. As it turns out there is plenty of money to be made operating turn tables and plenty of opportunities for up and coming disc jockeys. The big question is how much of an investment does it take up front to have the tools available to start spinning and how does one make a name for himself in the industry?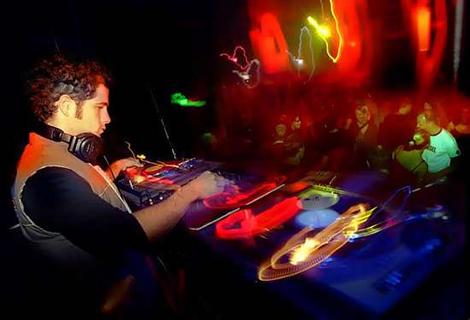 The answer to the question varies depending on the quality of equipment and software that you purchase however the average cost for new entrants to the business is somewhere around $500.  This estimate comes from a close friend of mine who began his own DJing career quite recently in college. Are you familiar with JAKE IS…? Of course the $500 estimate is taking into consideration that you already own a functioning computer that can accommodate some of the new software that you'll need. A big transformation in this industry has been the conversion from strictly using turn tables towards the operation of advanced computer software.
So what are a few reasons to become a DJ right now. The first and most obvious reason could be that you will have the ability to make a good chuck of income given the opportunity. Then there is the concept that you may be passionate about the music and that you frequently find yourself at the club scene or local bar with friends. If this is the case then it makes sense that you would enjoy becoming part of the industry that you so frequently support. Or perhaps you just want to be the life of the party and are ready to meet a lot of new people? And last but not least maybe you recognize that this is the opportune time to get in as a disc jockey while Dead Mau5 and David Guetta are on the rise?
No matter what is attracting you in the idea of becoming a DJ you should do a little bit of research before you dive in head first. Talk to a few disc jockeys and ask them the pros and cons of the industry. Find out what kind of equipment is available to you and for how much. Earn the money needed to make the initial investment and find out if you live in an area that would support your talents. Perhaps you may want to visit JP Coupe's website on what it takes to become a disc jockey today and how to build fan support. JP Coupe has been in the industry a while and offers you everything you will need to get into the business including a DJ contract template to use with nightclubs, press kit supplies,  guerrilla marketing tactics, industry specific advice, social media tricks, and more. Whatever you do make sure you have all the info you need before you run out and buy some expensive software. If you don't know somebody in the industry use my contact. Jake IS… will be glad to help you out in any way possible.
Blog Categories
Social Media So Fresh
Welcome to "Social Media So Fresh" a blog that encompasses trending media and amazingly fresh and clean technologies. Have something fresh to share? Email me and guest blog your news right here!
Blogroll
Friends